Vaccinations at Blue Parkway SunFresh
Swope Health provided free COVID-19 vaccinations and home test kits on Saturday, Feb. 26, at the Blue Parkway SunFresh grocery, 4209 E. 50th Terrace, Kansas City, Missouri.
With volunteers assisting from J.E. Dunn Construction, more than 100 COVID-19 home-use test kits were distributed. Swope Health clinical teams offered first dose, second dose and booster vaccinations to 19 individuals.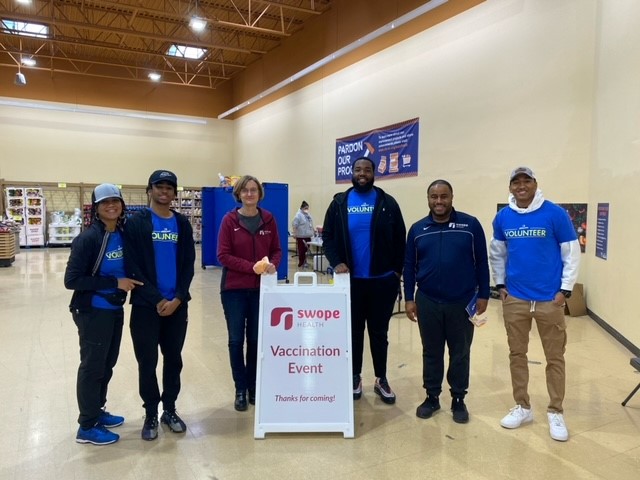 Part of the team delivering COVID-19 test kits and vaccinations at Blue Parkway SunFresh. From left, Zoraya Rowlands, a member of the Swope Health board of directors and director of Diversity, Equity & Inclusion at JE Dunn Construction, with her son, Ethan Hernandez; Dr. Jennifer Frost, interim chief medical officer at Swope Health; Louis Armstrong, of JE Dunn Construction; DaRon McGee, community engagement manager at Swope Health; and Darius Drew of JE Dunn Construction.
https://swopehealth.org/wp-content/uploads/2022/03/2-26-2022-SunFresh.jpg
480
640
Nancy Shawver
https://swopehealth.org/wp-content/uploads/2018/11/swope-logo-rev-750.png
Nancy Shawver
2022-03-01 16:05:08
2022-03-01 16:05:08
Vaccinations at Blue Parkway SunFresh