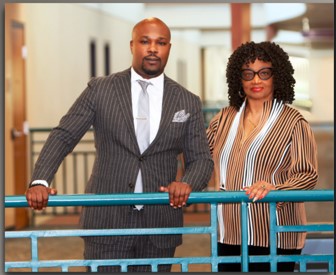 Our Health Matters Launches Special Edition Focused on Black Men
Our Health Matters (TM)  announces a special edition titled "Black Men Speak: Health, Strength, and Hope" available on November 19, 2022.
Jeron Ravin, J.D., President and CEO of Swope Health, joins Our Health Matters as a lead sponsor and Editorial Director to ensure that this body of work sets precedents.
"I'm happy to support this extraordinary project focused on Black men," he said. "Swope Health has more than 50-plus years of providing quality healthcare services, as well as leading conversations on better ways to serve the healthcare needs of all."
A notable awardee of the Kansas City Medical Society's 2021 Friend of Medicine award, Our Health Matters is a pivotal voice of reasoning on health and societal issues.
"Black Men Speak: Health, Strength and Hope recognizes the benefit of promoting increased consciousness, empathy, and support for the needs of Black men who are key to influencing the wellbeing of children, families, and neighborhoods," explains Ruth Ramsey, founder of Our Health Matters.
"We elicit Black men to share their honest perspectives on equity and inclusion that encompass healthcare, education, socioeconomic status, physical environment, employment, and social support networks. More importantly, we identify partnerships that can contribute to solutions," she said.
Through creative and thought-provoking imagery and storytelling, Our Health Matters will feature numerous Black men and boys whose diverse backgrounds reflect the complex and rich diversity found within the community. Their stories will touch on a wide range of topics—healthcare challenges, obstacles that have been overcome through resilience, and the recognition of significant milestones.
They will also share their vision to move the needle forward for themselves, their families and the communities in which they live, learn, work, worship and play.
Congress recently passed Federal House Bill 1636 COMMISSION ON BLACK MEN AND BOYS that established a 19-member Commission to examines the social disparities that disproportionately affect Black males in America. By bringing awareness to the importance of the state of Black men, Our Health Matters seeks to improve men's health literacy and build bridges to much needed resources.
For information contact Ruth Ramsey: ruthramsey@kcourhealthmatters.com. or call 816-456-4189.
https://swopehealth.org/wp-content/uploads/2022/11/ravin-ramsey.jpg
275
336
Nancy Shawver
https://swopehealth.org/wp-content/uploads/2018/11/swope-logo-rev-750.png
Nancy Shawver
2022-11-04 09:48:54
2022-11-04 09:48:54
Coming soon: Black Men Speak: Health, Strength, Hope