Swope Health supports Minority Health Month
Every April is National Minority Health Month, as proclaimed by the federal government's Health and Human Services agency.  The recognition is designed to highlight the importance of improving the health of racial and ethnic minorities, and to focus on combatting health injustices.
Swope Health works to address health injustices daily, actively breaking down barriers to healthcare. Swope Health is an advocate for quality healthcare for all.
The theme for this year's celebration is Better Health Through Better Understanding.
This celebration has its roots with Booker T. Washington, educator, civil rights advocate and author, who called for a National Negro Health Week in 1915. His campaign to bring awareness to health disparities lasted until 1951.
The federal government in 2002 launched the current designation of National Minority Health Month,  to promote "educational efforts on the health problems currently facing minorities and other health disparity populations."
Today, the National Institutes of Health's Institute on Minority Health and Health Disparities works to lead scientific research to improve minority health and reduce health disparities.
Why a national focus? The Centers for Disease Control and Prevention describes a growing body of evidence that racial and ethnic minority groups experience higher rates of illness and death across a wide range of health conditions, including diabetes, hypertension, obesity, asthma, and heart disease, when compared to their White counterparts.
The life expectancy of non-Hispanic/Black Americans is four years lower than that of White Americans. Additionally, in the COVID-19 pandemic, research showed members of racial and ethnic minority groups had higher rates of COVID-19 and more severe cases than White populations. These disproportionate impacts are examples of health disparities.
These disparities are preventable.
What's the cause? According to the NIH, "Achieving health equity for all in the U.S. will require dismantling this country's historical legacy of structural racism."
The CDC offers a suggestion: "Communities can prevent health disparities when community- and faith-based organizations, employers, healthcare systems and providers, public health agencies, and policymakers work together to develop policies, programs, and systems based on a health equity framework and community needs."
This is why Swope Health works to address social drivers of healthcare. Some examples of our work:
Removing barriers to care for children, with clinics in schools and community centers
A wide range of behavioral health services, counseling, therapy, medication-assisted treatment, coping skills and more
Health insurance marketplace and Medicaid enrollments
Providing transportation
Offering residential services
Culturally proficient nutrition counseling, meal-planning and education
Health Equity focused innovative diabetes management with nurse-care managers to support patients and reduce health disparities in diabetes care
Food and family essential giveaways
Hosting educational programs, podcasts and community town hall events
Speeding access to pharmacy services, including a drive-through option
Homeless outreach program
Training opportunities for multiple health care delivery roles in our environment as a federally qualified health center (FQHC)
And much more.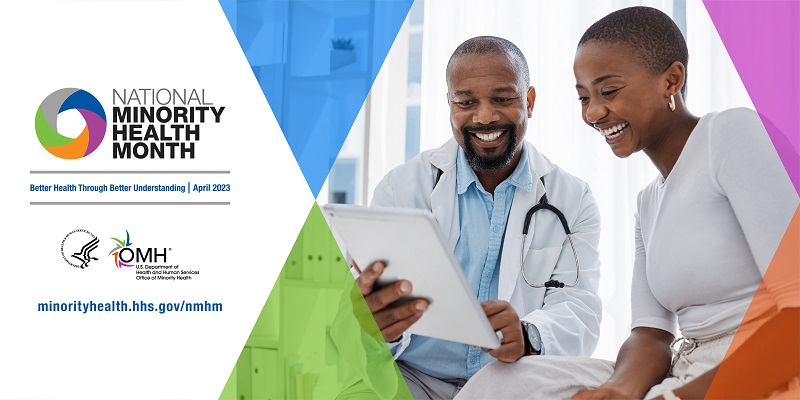 For examples beyond the healthcare and related services, Swope Health advocates with legislators and policy makers, civic organizations, non-profits, and others in healthcare and community services to build collaborative impact. For instance, Swope Health participates in the Health Equity Task Force, the Health Equity Learning Action Network, committees with the Public Health department and state agencies and more. Our work touches education, policy development, funding, training and more, all in addition to our daily work in our clinics and the community.
Swope Health is working toward a day when race, ethnicity, income, or ZIP code do not determine your health status.
For more information on Minority Health Month, explore:
https://swopehealth.org/wp-content/uploads/2023/04/circle-nmhm-2023_logo_w-tag_eng_small.png
232
242
Nancy Shawver
https://swopehealth.org/wp-content/uploads/2018/11/swope-logo-rev-750.png
Nancy Shawver
2023-04-24 11:51:30
2023-04-26 12:51:17
Swope Health supports Minority Health Month