Join us: Town Hall on Violence Prevention
Kansas City has one of the highest murder rates in the nation, currently ranked with the seventh highest homicide rate in the US. In 2022, the city had 171 homicides, the second highest in the city's history. As of mid-March, Kansas City has recorded 41 murders.
Swope Health calls this a public health crisis. This impacts everyone in the city.
To bring focus to the issue, Swope Health will convene a community town hall, starting at 6:30 pm Wednesday April 5 at the Kansas City Public Library – Plaza Branch, 4801 Main St., Kansas City.
The town hall will offer an open discussion between the Kansas City Police Chief Stacey Graves, the Kansas City Public Schools Superintendent Dr. Jennifer Collier, and longtime Kansas City activist Alvin Brooks.
The discussion will be led by Swope Health President and CEO Jeron Ravin, J.D.
The evening begins with a reception 5:30 to 6:30 pm outside the Plaza Library Auditorium. The Town Hall begins promptly at 6:30 pm.
The event is co-sponsored by Swope Health and KC Common Good. Please join us.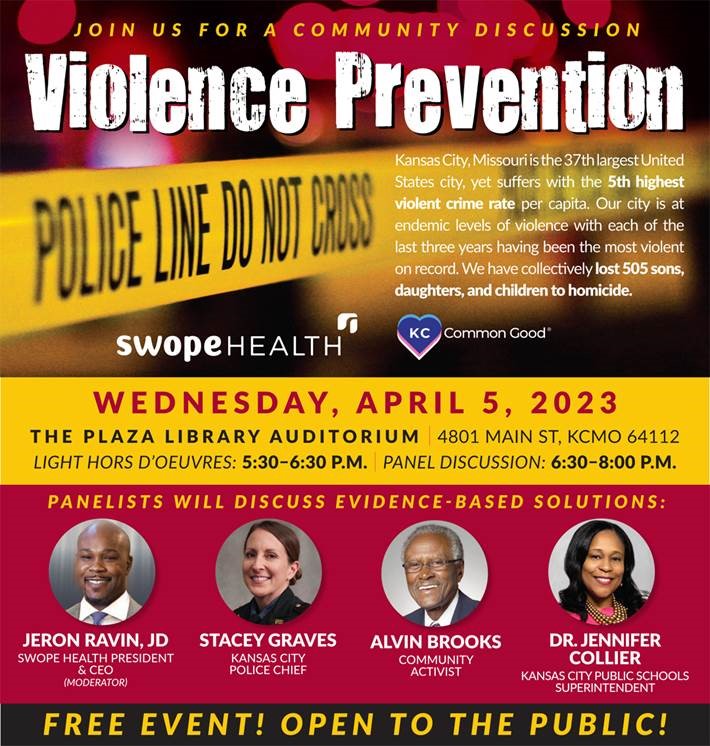 Program participants:
Kansas City Police Chief Stacey Graves
: Graves is a 25-year veteran of the department who began her career as a civilian records clerk in 1997. She becomes the first woman in KCPD's 148-year history to be named the permanent police chief.
As a major, Graves managed the Shoal Creek Patrol Division (109,213 residents and over 74.6 miles, with 78 personnel). She led the Human Resources Division during KCPD's pandemic response. She was the Patrol Bureau's Executive Officer before being named the Acting Deputy Chief. Other assignments include the Drug Enforcement Unit, The Media Unit, and Internal Affairs.
Graves has an Executive Master of Business Administration from Benedictine College and earned a B.A. in Administration of Justice from the University of Missouri-Kansas City.
Kansas City Public Schools Superintendent Dr. Jennifer Collier
: Collier has served as an educator in Kansas City Public Schools for 22 years. She's been a teacher, assistant principal, principal, Chief Human Resource Officer and Deputy Superintendent.
Dr. Collier earned a Bachelor's degree from the University of Kansas, a Master's of Arts in education from Avila University and an Educational Specialist degree in Educational Leadership from the University of Missouri-Kansas City. She received her doctoral degree in Educational Leadership from UMKC in 2018.
A life-long learner, Dr. Collier has completed the National Institute of School Leaders (NISL) program and is a certified NISL trainer. In this role, she has provided training for educators and school leaders across the state of Missouri. She also received a certificate from the Harvard University School Turnaround Leaders Institute in 2019. Additionally, Dr. Collier is Professional of Human Resources (PHR) certified.
Alvin Brooks
: Political and civic leader Alvin L. Brooks is grew up in Kansas City, Missouri, and attended public schools here. He began his career with the Kansas City Police Department, serving as an officer and detective, from 1954-1964. He then joined the Kansas City Public Schools, and in 1968 was appointed to organize the city of Kansas City's first Human Relations department. He was the first Black department director in Kansas City government, where he served until 1972 when he was appointed assistant city manager.
In 1977, he founded the AdHoc Group Against Crime in response to violent crime in the community. He served two terms on Kansas City City Council and was appointed Mayor Pro-Tem. He has also served as a member of the Kansas City Board of Police Commissioners and was its president for two years. He has served in numerous local, state and national positions, including a three-year term on the President's National Drug Advisory Council.
He holds a bachelor's degree in history and government, and a master's degree in sociology, from the University of Missouri-Kansas City. He has received dozens of awards and accolades for his life of activism and service.
Jeron L. Ravin, J.D.
Before joining Swope Health as its president and CEO, Ravin served as the Chief Operating Officer for the Community Health Center Association of Mississippi. In this role, he worked to strengthen Mississippi community health centers by overseeing policy, marketing & branding, workforce development, clinical quality improvement, outreach and enrollment, and health information technology. He also provided training and technical assistance.
Ravin is a former political staffer, with experience in policy making and consensus building at the local, state, and federal government levels.
He is a Fellow of the Latino Center for Leadership Development, a leadership training program for those with a desire to serve their community through positions of impact. He holds a Juris Doctor from the Thurgood Marshall School of Law and a BA in Journalism from the Cathy Hughes School of Communications at Howard University.
https://swopehealth.org/wp-content/uploads/2023/03/Town-Hall-flyer.jpg
746
710
Nancy Shawver
https://swopehealth.org/wp-content/uploads/2018/11/swope-logo-rev-750.png
Nancy Shawver
2023-03-30 16:28:49
2023-04-13 14:34:06
Join us: Town Hall on Violence Prevention