In honor of Black History Month, Swope Health hosts a series of community discussions, featuring Black leaders in Kansas City.
All events are free, online, and open to all. Each of the events are recorded and available for replay.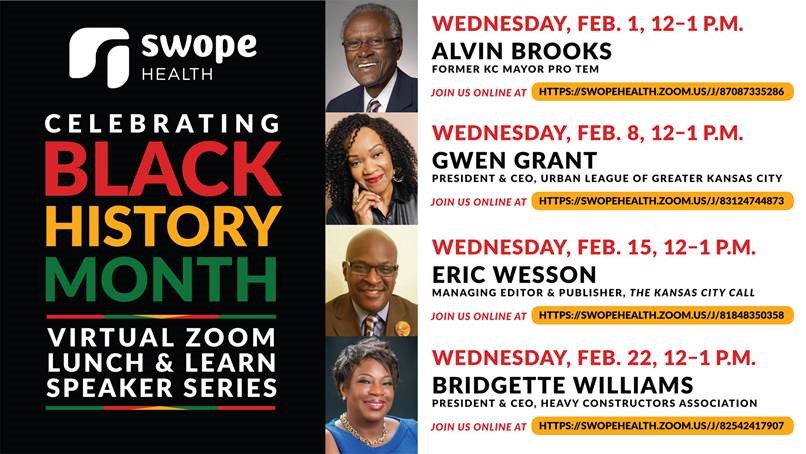 Wesson grew up in Kansas City in the 1960s, thumbing through his parents' copies of The Call in a neighborhood called Vineyard Gardens, just off 47th Street. It was a tight-knit black, middle-class neighborhood where people knew each other, and if you got into any trouble, someone else's parents wouldn't hesitate to let your parents know about it. He says that if it takes a village to raise a child, that's exactly how he was raised.
After serving in the Marine Corps, Wesson went to Morehouse College, an all-male, historically black college in Atlanta, Georgia, on the G.I. Bill. He studied political science, and found the curriculum demanding.
After a few years as a teacher, Wesson got distracted by what he calls a "walk on the wild side" — meaning drinking, drugs, and partying — followed by a "state-funded vacation." That is to say, time in prison. He came out of prison with a renewed interest in helping young black men, resulting in a hotline for ex-convicts to help, and a 501C3 non-profit to offer guidance and mentoring to at-risk men and boys.
He explains his focus on men and boys by citing imprisonment statistics, and also a dwindling number of male heads of households. It was also in prison that he started making plans to turn his life back around. With plenty of time on his hands, he sent letters to the editor and commentaries to The Call. That ended up setting the stage for his career as a journalist for that very newspaper.
Eric Wesson stepped into a long tradition of black journalism when he joined the Kansas City Call staff 12 years ago. Wesson investigates the daily concerns of Kansas Citians and weighs in on national discussions, all part of his concept of advocacy journalism. In 2021 Wesson became the Managing Editor and Publisher of The Call newspaper influencing policy and elected officials.
 Bridgette Williams replay:
Bridgette Williams, a respected force in the region's construction industry, is the President and CEO of the Heavy Constructors Association of Greater Kansas City.
Williams' experience with and connections to the area's labor community go back to the 15 years (1995 to 2010) she spent as the first African American, and first female President of the Greater Kansas City AFL-CIO. She pledged that she and the Heavy Constructors Association of Greater Kansas City will continue to advocate for fair and prevailing wages on area job sites, and challenge unfair right-to-work legislation.
In addition to her work in labor relations, Williams' experience in the industry and involvement in the community includes working extensively on issues related to economic development, transportation, and workforce development. She currently serves as chairwoman of the Economic Development Council of Kansas City, a not-for-profit organization working to promote economic development, facilitate redevelopment and provide business retention services in Kansas City, MO.
The Heavy Constructors Association of Greater Kansas City is a highway-heavy utility chapter of the Associated General Contractors of America and the American Road and Transportation Builders Association.  Founded in 1950, the Heavy Constructors Association has been in the forefront of transportation, public works, infrastructure issues and campaigns in the Greater Kansas City Area, and in the states of Kansas and Missouri. The Association's members have built most of the highways, bridges, streets, airports, dams and clean and waste water systems in both Kansas and Missouri.
Alvin Brooks: Replay 
Brooks attended Dunbar Elementary School, R.T. Coles Vocational High School, and Lincoln Junior College. He went on to receive his B.A. degree in history and government in 1959 and his M.A. degree in sociology in 1973, both from the University of Missouri-Kansas City.
From 1954 to 1964, Brooks served as a district police officer and later a detective with the Kansas City Police Department. In 1964, he left the police department and joined the Kansas City School District as a home school coordinator in the department of pupil services. After one year, Brooks joined the staff of the division of urban education as coordinator of parent, student and community interpretation.
In 1968, after Kansas City's riot, Brooks was appointed to organize the first Kansas City Human Relations department and became the first Black department director in Kansas City government. Brooks served as human relations director until 1972, when he was appointed assistant city manager, where he served until 1991.
In 1977, Brooks founded the grass roots, community-based organization the AdHoc Group Against Crime (AdHoc) in response to violent crimes in the African American community, where he became director in 1991. Brooks was later appointed by President George H.W. Bush to a three-year term on the President's National Drug Advisory Council.
In 1999, Brooks was elected to the Kansas City council representing the 6th District At-Large and was appointed mayor pro-tem. He was re-elected in 2003. In 2010, he was appointed to the Kansas City Police Department's Board of Police Commissioners, and served as president for two years, before being elected as a director on the Hickman Mills C-1 School Board.
Gwendolyn Grant: Replay
Gwendolyn Grant is the President and CEO of the Urban League of Greater Kansas City. In addition to providing leadership, oversight and direction for the advancement of its programs and mission, Ms. Grant is actively engaged in a variety of civic and community organizations, including the Executive Committee of the Urban Neighborhood Initiative Board of Directors, President of the Kansas City Public Schools (KCPS) Buildings Corporation Board, KCPS Superintendent's Business/Economic Development Advisory Council, Kauffman Foundation KC Scholars Implementation Committee, Greater Kansas City Chamber of Commerce Diversity Committee, Urban Summit Education Committee, and more. The first female leader in the 97-year history of the Urban League of Greater Kansas City, Ms. Grant has devoted her entire career to working in the nonprofit sector, which has afforded her the opportunity to work every day towards making a difference in the lives of people in need.
She is a strong advocate for social justice and economic empowerment for African Americans.
https://swopehealth.org/wp-content/uploads/2023/01/black-history-2023-square.jpg
327
318
Nancy Shawver
https://swopehealth.org/wp-content/uploads/2018/11/swope-logo-rev-750.png
Nancy Shawver
2023-01-30 10:53:04
2023-03-03 11:35:54
Join Us for Black History Month