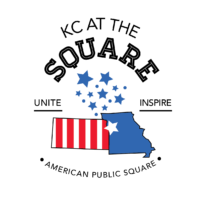 Join us at American Public Square Aug. 17
Addressing Gun Violence in Public Spaces
Swope Health President and CEO Jeron Ravin JD will be part of a panel sponsored by American Public Square at Jewell on "Addressing Gun Violence in Public Spaces."
The event is 6 -7:30 pm Wednesday. Aug. 17, in person at the Johnson County Central Resource Library, Carmack Room, 9875 W. 87th St., Overland Park, KS 66212, and available via livestream.
The event is free and open to the public. Register to receive the information to attend virtually or to reserve a spot.
American Public Square notes: Most citizens deplore the mass gun violence that is currently plaguing our nation. However, Second Amendment advocates fear their rights could be limited if laws addressing guns are changed.  As this standoff continues, death tolls are increasing and anxiety levels continue to rise for citizens of all ages when in public spaces such as schools, houses of worship, retail stores and other public venues.
What is the answer when it comes to mitigating gun violence in America?   The panel will discuss ideas for the community to address gun violence in public spaces.
The event will be moderated by: McClain Bryant Macklin, director of policy and strategic initiatives – Health Forward Foundation
The panelists:
Caleb Daniels, marketing coordinator – Frontier Justice. Caleb Daniels is currently the Marketing Coordinator at Frontier Justice, the premier range/retailer in the Midwest, and has worked in the firearms industry for the past seven years. He is a 2020 graduate of Truman State University, with a major in Business Administration with a Concentration in Marketing.
Adam Hamilton, senior pastor – The United Methodist Church of the Resurrection. Rev. Adam Hamilton is the founding pastor of the United Methodist Church of the Resurrection in Leawood, Kansas. Hamilton was named one of the "Ten people to watch in America's spiritual landscape" by Religion and Ethics Newsweekly. For his efforts in Kansas City, he has been recognized with the first Founder's Civility Award by American Public Square at Jewell in 2020.  He's received numerous other awards for community service. Hamilton launched Church of the Resurrection with his wife and two children in 1990. It has since grown to over 22,000 adults and children under his leadership. Today the church is the largest United Methodist Church in the United States and has five locations throughout the Kansas City area.
State Rep. Jo Ella Hoye and volunteer for Moms Demand Action for Gun Safety. Jo Ella Hoye represents the 17th District in the Kansas House of Representatives. She is a stay-at-home-mom and committed public servant. She's held various local government management positions in the public, private, and non-profit sectors; most recently as a Senior Analyst in the Johnson County Manager's Office. Jo Ella volunteered for Moms Demand Action for Gun Sense in America for over three and a half years, including as Kansas Chapter Leader. That strategic team moved the needle on gun safety in Kansas with bipartisan support. Jo Ella's continued presence at the Statehouse influenced the passage of sensible gun legislation, earning her the nomination by Everytown for Gun Safety for the 2018 Professional Women in Advocacy Excellence in Advocacy of a State Issue Campaign Award. Jo Ella is involved with the Shawnee Mission School District's My Volunteer Pal program, she served three years as Vice President for Ways and Means of the Rising Star Elementary PTA, and served two terms on the Lenexa Planning Commission.
Clarke Prophete, journalism student – University of Missouri-Columbia and graduate of The Barstow School. Clarke Prophete is an upcoming sophomore at the University of Missouri – Columbia where she is studying journalism with an emphasis in strategic communications and psychology. She has received two awards for division one oratorical speaking during her time in Jack and Jill of America, as well as serving as president. More recently, she has added "member of The National Association of Black Journalists at Mizzou" to her resume.
Jeron Ravin, JD, president and CEO – Swope Health. Jeron Ravin is a healthcare leader who has worked on behalf of Community Health Centers for the greater part of a decade to expand access and improve health outcomes. As President and CEO, Jeron Ravin leads strategic direction for Swope Health, the leading provider of healthcare for underserved individuals and communities in Kansas City, Missouri. Swope Health, a Federally Qualified Health Center (FQHC), has provided comprehensive primary care and behavioral health services for more than 50 years. Jeron previously served as the Chief Operating Officer (COO) for the Community Health Center Association of Mississippi (CHCAMS). CHCAMS is comprised of 21 FQHC's, working together to increase health access by providing affordable, quality, comprehensive healthcare in Mississippi. As the COO, Jeron facilitated the strengthening of Mississippi community health centers by overseeing programmatic functions including Policy, Marketing & Branding, Workforce Development, Clinical Quality Improvement, Outreach and Enrollment, Health Information Technology, Training & Technical Assistance, and led operations for the Primary Care Coalition of Mississippi, a CHCAMS subsidiary Independent Practice Association. In addition to his experience in healthcare leadership, Jeron serves on several boards including Alphapointe, BLAQUE Kansas City (Chairman), the Civic Council of Greater Kansas City, Full Employment Council – Workforce Development Board (Kansas City & Vicinity), Kansas City Public Schools Education Foundation, National Association of Community Health Centers (NACHC), and University Academy. He is a member of Kansas City Tomorrow (42nd Class) and the Missouri Primary Care Association and is a Fellow of the Latino Center for Leadership Development (LCLD). In May of 2021, Jeron was recognized by Ingram's Magazine as a member of its select class of "40 Under Forty".
https://swopehealth.org/wp-content/uploads/2022/08/APS_KCSquare_Logo_RGB-1-200x200-1.webp
200
200
Nancy Shawver
https://swopehealth.org/wp-content/uploads/2018/11/swope-logo-rev-750.png
Nancy Shawver
2022-08-15 13:32:40
2022-09-04 14:04:27
Join us at American Public Square Aug. 17